The Chincoteague Police Department is the primary law enforcement agency charged with protecting the nearly 3,000 yearly residents and approximately 1.4 million yearly visitors of Chincoteague Island. The Department consist of ten sworn officers who are responsible for enforcing criminal and traffic laws of the Commonwealth of Virginia and the ordinances of the Town of Chincoteague. In addition, officers perform numerous accident investigations annually and assists with traffic control at busy intersections during peak summer months.
The Department's dispatch center handles calls from the public, 911 transfers for police emergencies, after hours Town of Chincoteague business, as well as dispatching for the Chincoteague Police Department and Assateague Island Law Enforcement for both Maryland and Virginia (National Park Service and U.S. Fish & Wildlife). In 2016, the dispatch center answered approximately 7,400 calls for service for all entities combined. The Chincoteague Police Officers made just over 200 arrests and issued approximately 1,000 uniform summonses.
Training is very important to the officers of the Chincoteague Police Department, which is reflected by its impressive staff of instructors. The Chincoteague Police Department is proud to have on staff a total of six Department of Criminal Justice Services General Instructors. Specialties include a RADAR Instructor, two Firearms Instructors, an ASP Instructor, two Chemical Weapons Instructors, a Terrorism Awareness & Prevention Instructor, an FST Instructor, 3 Field Training Officers, a Certified Crime Prevention Specialist, and a Crime Prevention Officer. The Department is proud to be a member of the Hampton Roads Criminal Justice Training Academy in Newport News.
In 2012, The Chincoteague Police Department became an Accredited Agency with the Virginia Law Enforcement Professional Standards Commission (VLEPSC). State accreditation is the best measure of an agency's compliance with professional law enforcement standards, as determined by the VLEPSC. The Commission consists of Virginia sheriffs and police chiefs selected for their expertise and knowledge. Adherence to an acknowledged body of professional standards may help protect an agency against a variety of potential liability problems. In 2016, the Chincoteague Police Department went through their 1st re-accreditation successfully, with the entire department in compliance. The Chincoteague Police Department currently is the only law enforcement agency on the Eastern Shore of Virginia that is an Accredited Agency.
The Chincoteague Police Department is dedicated to providing the citizens and visitors of Chincoteague with a safe and peaceful place for residents and visitors alike. Everyone is encouraged to report all suspicious activities to the police department and remember, if you must drink…choose a designated driver.
Emergencies: 911
OTHER NEWS:
What to do when stopped by a Police Officer
Texting While Driving – Primary Offense
Chincoteague Police on Facebook
Chincoteague Police on Twitter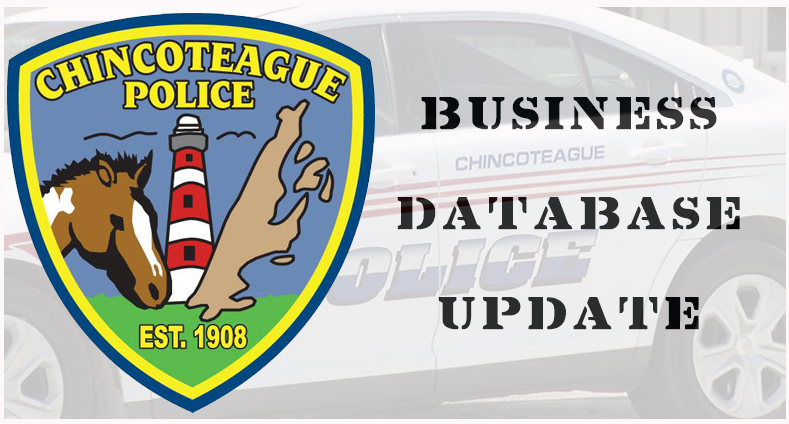 Click here to open our Business Database Form. The Chincoteague Police Department is updating our Business Database, and we need your help. Should any incident occur at your place of business, we need to be able to get in touch with you, or possibly gain entry to your place of business. Having important contact information on hand like owner's name and telephone number, or an employee's name and number that is a key holder, would help us serve you quickly and efficiently. We encourage you to go to our website, print the form, and send it to us via fax, mail or email. All information will be confidential and filed at the Police Department. Fill it out, and fax it to 757-336-6970, mail it 6150 Community Drive, Chincoteague, VA 23336 or email it to mhart@chincoteague-va.gov.